Part Two – A Sample Project
UPDATE: (09 April 2007)
It's come to my attention that there needs to be a minor tweak to this tutorial. The RLA functionality between After Effect 7 and Lightwave seems to be 'broken'. For now, use the RPF Image Filter instead of RLA. I'll be doing a complete rewrite at some point in the near future, including updated functionality.
Note: This is just a quick example of controlling Lightwave's RLA information in After Effect. Here we see an image rendered in LW, and exported using the Extended RLA Image Filter, and exported to After Effects. The second image is a text element that I want to sandwich between the character and the building, using the Depth Matte Effect in After Effects…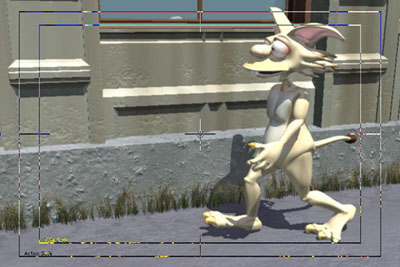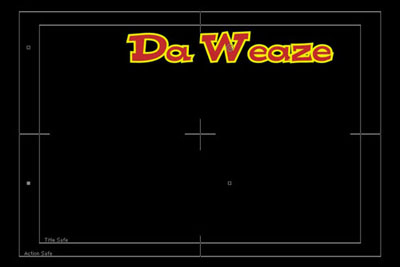 The following is the Depth Matte, as viewable by using the 3D Channel Extract filter in AE 5.5, including the settings I picked to view it…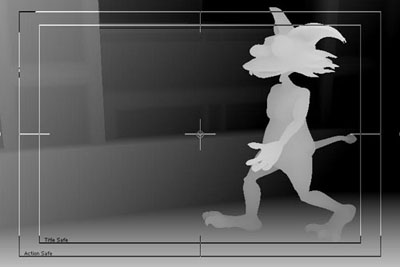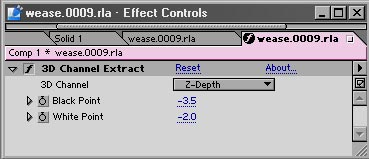 Note that when bringing this info from LW, After Effects defaults to using HUGE numbers for the Black/White point, such as + and – 10000. This is way to huge for most of the stuff I do, and find that even with an image with a depth of about a city block or two (about 600 metres), the numbers sit within the +200 to -200 range…
Next is the results of picking a point I want to matte, and it's setting for this particular image…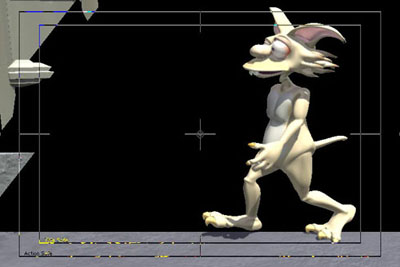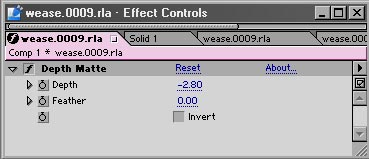 You can also feather in percentages as well. Since this is just a quick run through, I'm not being picky. :)Now to bring it all together. Below is a snip of the AE time line.
As you can see, the top layer has the Depth Matte Effect applied as per the above example. The second layer in order is the Text element I want to sandwich, and finally, another copy of the original RLA without the Depth Mattel Effect applied. Below are the results…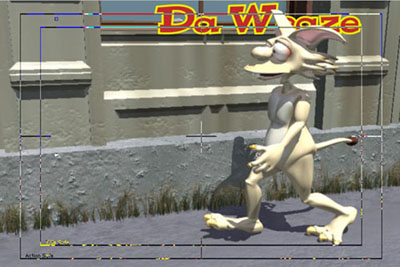 In Conclusion:
This is just one way to do it, but I'm sure there are others. For certain uses, you can extract the Depth Matte, then use that as a key for footage, etc etc. I don't pretend to be an expert in LW or AE, but I get paid to work with them. Since I learn a LOT from the online graphics community, I figure when I can share a little, it can only be good karma. 🙂
That's about it. Comment, crits etc… email me at doug@dougplanet.com