The original page is here
(Including links to hi-res pics)
This was designed as part of a contest being hosted by clieplanet.com. Since entering it, the original page managed to (unintentionally) fool a fair number of people into believing that the TX75 is a real device being released by Sony. This is patently untrue. To read the threads, one can do a search for TX65 (its origninal name) on the cliesource.com website.
UPDATE: I came in second place in the contest, though I got a few e-mails saying I should have won 🙂 The prize I recieved is a case for the T665 made by Piel Frama.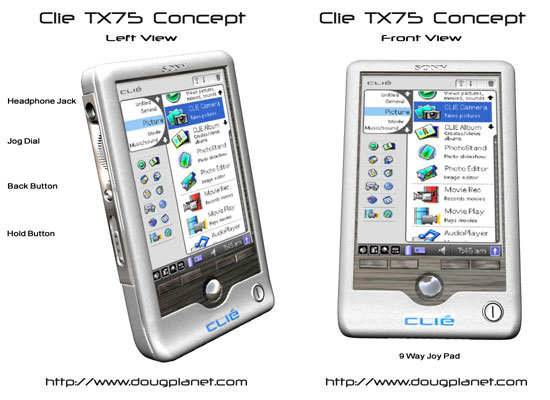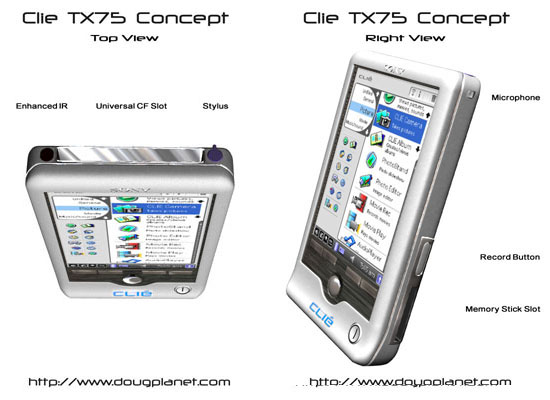 It was brought to my attention that it has appeared on a Thai pirate software site. I've got a screenshot of that here, with the website name blurred out. I don't want to condone software piracy, and I won't mention the person's name who mentioned the link. But it's out there
All this has been kind of surprising from a quick little exercise I took upon myself…
For those who like this design, and I know there are some, feel free to send a link to Sony. Maybe it'll do something. Here's their "Ask us" page and here's their Contacts page with e-mail addresses… 🙂 (These two links now shut off) 🙁
For those wanting to know, I designed the 3D model in Lightwave 3D 7.5 and then added text and tweaks in Photoshop.
Design Considerations
When making up the TX75, instead of going the route of an over the top machine that couldn't really be built with todays technology, I built what I want Sony's next release to be. Of course, there are a couple of things in there that are unreasonable, such as a Universal CF slot (Sony doesn't seem to want to do that anytime soon), and the processor speed. Other than that, I think that the TX is entirely capable of being built today. Hopefully Sony will go this route soon, as their latest releases, while interesting, are very niche market oriented, and from the rumblings on many mailing lists and forums, there are many customers starting to look elsewhere.
Although I'm definitely not a loyalist to ANY brand, the Sony Clie line over the past year or so has been just incredible, and their design team has designed some PDAs that look better than any competitor has ever done. Sony has shown that they know industrial design, and I hope that a TX75 type device is due to be announced soon…